Posted by Moms Fun Money on Monday, November 5, 2012
Under: Misc.
I was really excited to be able to team up with Smiley360.com to experience the Sears Cheer Headquarters both online and in stores. They sent me a $15 Sears gift card to use, which made it even better! I will admit, I have never purchased holiday decorations at Sears before. So I started by visiting their Cheer Headquarters online. They have it so well organized from Christmas trees, to lighting to Ty Pennington themes. While there I entered the Holiday Home Makeover with Ty. Click HERE to enter. The makeover is priced at $4500! Can you imagine how amazing your home would be for the holidays with all that stuff? Note that the contest closes on 11/26. They are also donating $1 for each entry to the Rebuilding Together organization.



We purchased our first artificial tree last year and I bought most of the ornaments I needed but I had a great time looking online at all that they had to offer. I had a few things in mind when I headed out to my local Sears store. Once I got there they had a lot of lovely tree displays. Once looking at them I realized that I never bought a tree topper last year. What I loved was the ribbon toppers they had. I remember in years past trying to make a large bow myself with not much success. Well, they make it easy for you, they are already made! So I purchase a bow for the top of our tree and a spool of 25 feet of ribbon to decorate it as well.





Was thinking of this Ty Pennington tree topper...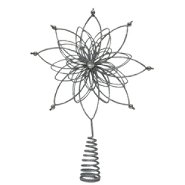 But ended up with these instead (allows me to be a little crafty)...
I also wanted to remind you of the Shop Your Way card. It is valid at both Sears and Kmart stores. Use it each time you make a purchase and receive 10 points for each $1 spent. Earlier in the year I went shopping with a friend of mine at KMart. I did not end up purchasing anything, but she did. The cashier asked for her Shop Your Way card and she had no idea what it was. I had them scan mine and I had some credit on my card. I was able to bless her by allowing her to use it :) Click HERE to sign up today. It is completely free.
Note: I received a $15 Sears gift card from Smiley360.com to purchase holiday decorations for this post. All opinions are 100% mine.
In : Misc.
blog comments powered by

Disqus